Garlic Peeler Project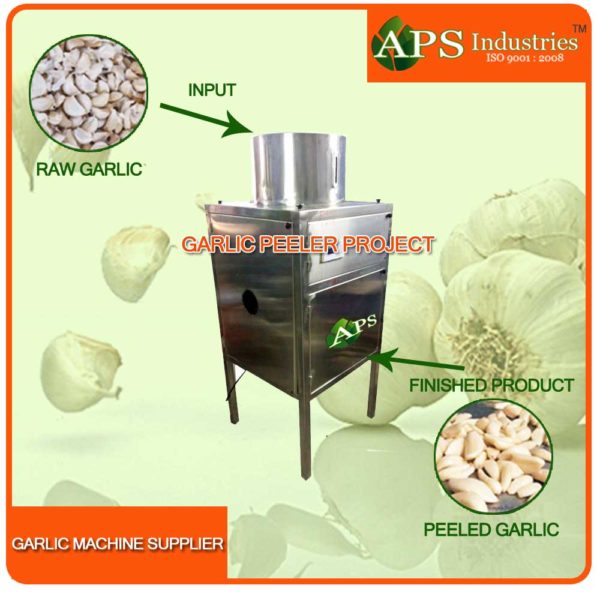 Garlic Peeler Project
Garlic Peeler Project Features:
fully automatic
work with an air compressor.
less power consumption
High production capacity.
No hassle of maintainance
Auto temperature control panel.
Easy to operate
Can peel different size of garlic, clove and membrane separated
Suitable for complete production line or single station working
No damages and will have long preservation for garlic
Production output according to varietiesog garlic
Outside Panels , Hopper & Contact Parts SS 304
50% Less Power Consumption
24 hour of services all over India
Capacity:
50 kg per hour
100 kg per hour
150 kg per hour
Note: More capacity is available and the machine is required with an air compressor.
The demo will be conducted at the factory
Product Description
APS Industries (ISO 9001-2008 Certified) one of most reliable supplier, manufacturer and exporter of Garlic Peeler Project all over India. The machine is highly grade for peeling garlic cloves. An automatic temperature control air system.
 We able to manufacture, supply and export high range quality garlic peeler. The machines designed and develop with our skilled engineers using the quality materials like steel from our reliable market vendors.
ideo width="480″ height="360″ mp4="http://www.garlicmachinesupplier.com/wp-content/uploads/2016/09/Dry-Garlic-Peeling-Machine.mp4″][/video]
Built and attach hot air system for the quicker way of peeling of the garlic cloves. As the machine is for commercial use including hotels,restaurant,caterers and food processing industry are able to purchase the machine for the huge process of raw materials.
We bought the machine and explore it features in the market for solving and reducing trouble for any manual work done with human labors. Manual or old ways of peeling is time consuming with this machine the problem is solve. Not only that its guarantee that using this machine has the advantage of less power consumption.
Garlic Peeler Project required  with an air compressor to add pressure in peeling tha garlic with out damage to the peeled garlic.
Product Enquiry