Ginger and Garlic Paste Project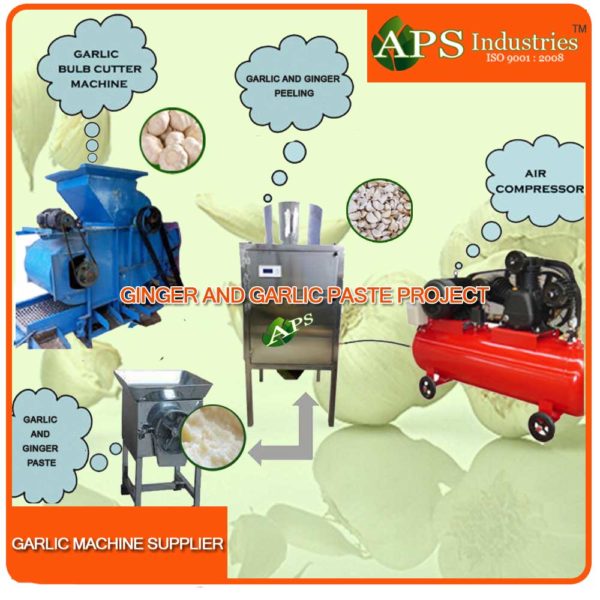 Ginger and Garlic Paste Project
Garlic and Ginger Paste Project Features:
Durable and long lasting type of material used
easy to operate
low maintenance
lower power consumption.
Capacity:
Garlic Bulb Decoder:
50 kg,100,150 capacity per hour
Garlic Peeling Machine:
100 kg per hour
Garlic and Ginger Paste Machine:
100 kg per hour
Wet Ginger Washer Machine:
100 kg per hour
Garlic Paste Mixer:
50 kg per hour
Paste Packing:
Qty 5gm  t0 200 gm
Each products features mostly  mentioned in the proposal as well.
Note. There will  be more capacity available depending on your budget requirement and the actual demo of the machines will be conducted at the factory.
Categories: Automatic Garlic Machine, Commercial Garlic Machines, Dry Garlic Peeler Machine, Garlic Machines, Garlic Paste Machines, garlic peeler machine manufacturers, Garlic Peeler Project, garlic peeling machine price, garlic peeling machine supplier, garlic peeling project, Projects
Tags: garlic paste machine, garlic peeler, garlic peeler machine, garlic peeler machine supplier, garlic peeling machine manufacturer, garlic peeling mcachine, ginger and garlic paste project, ginger paste machine
Product Description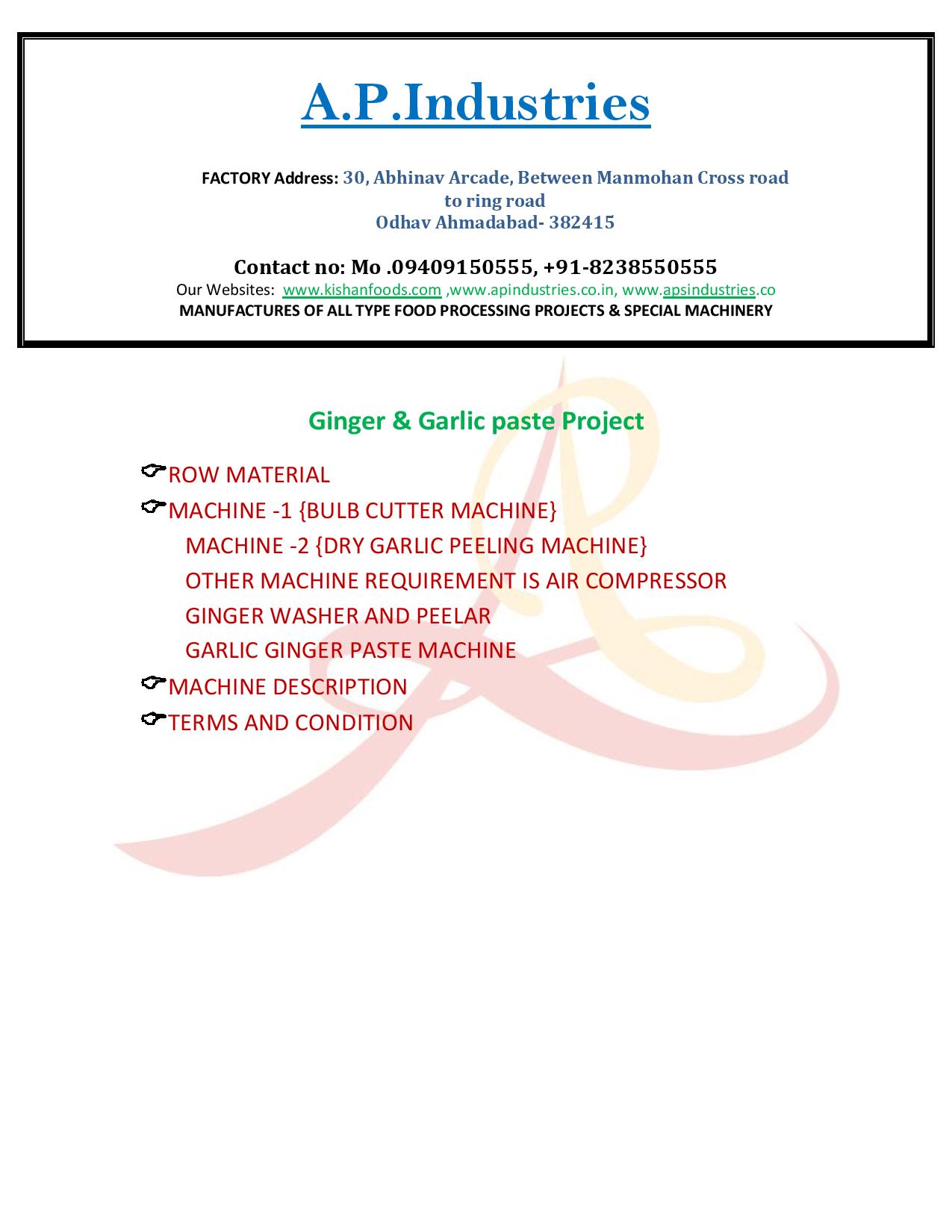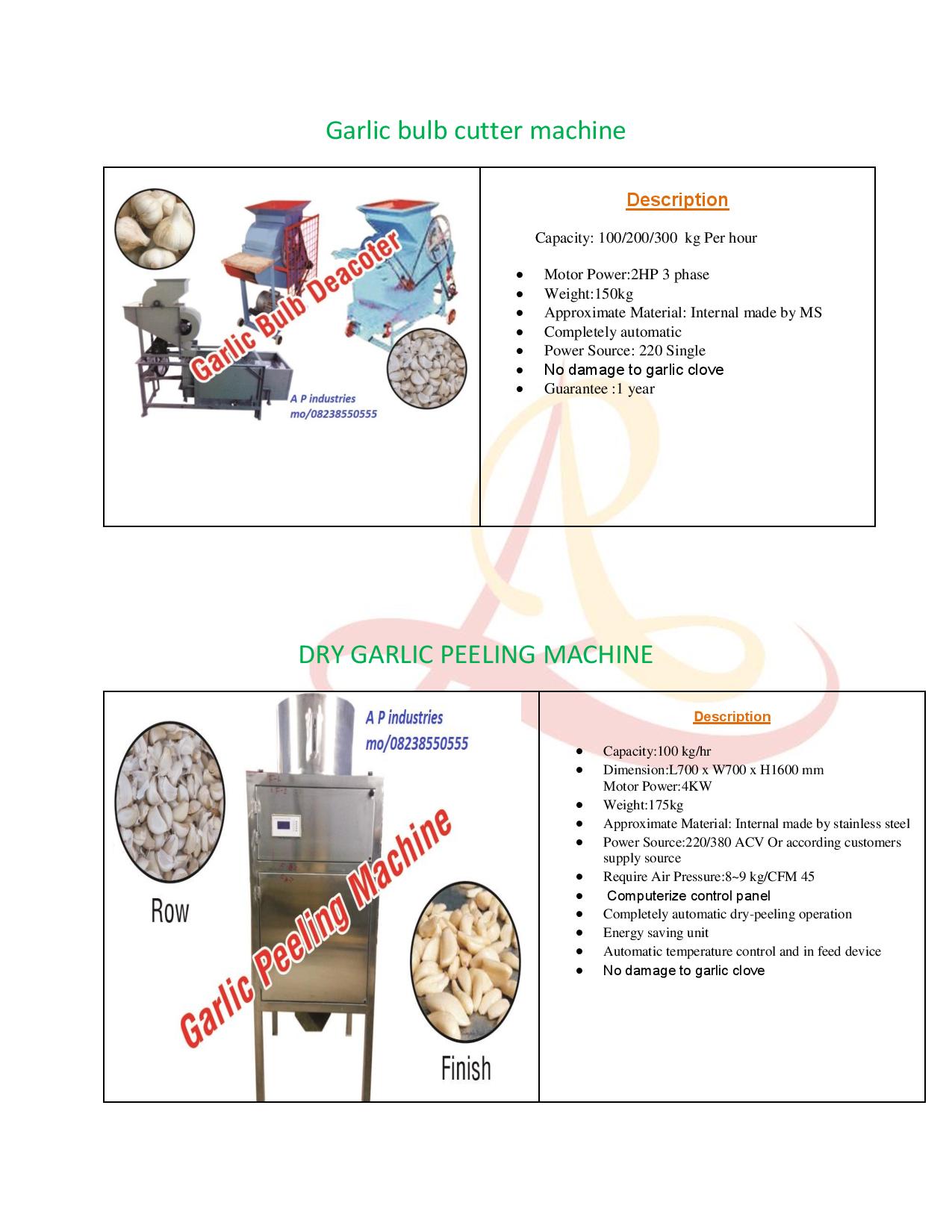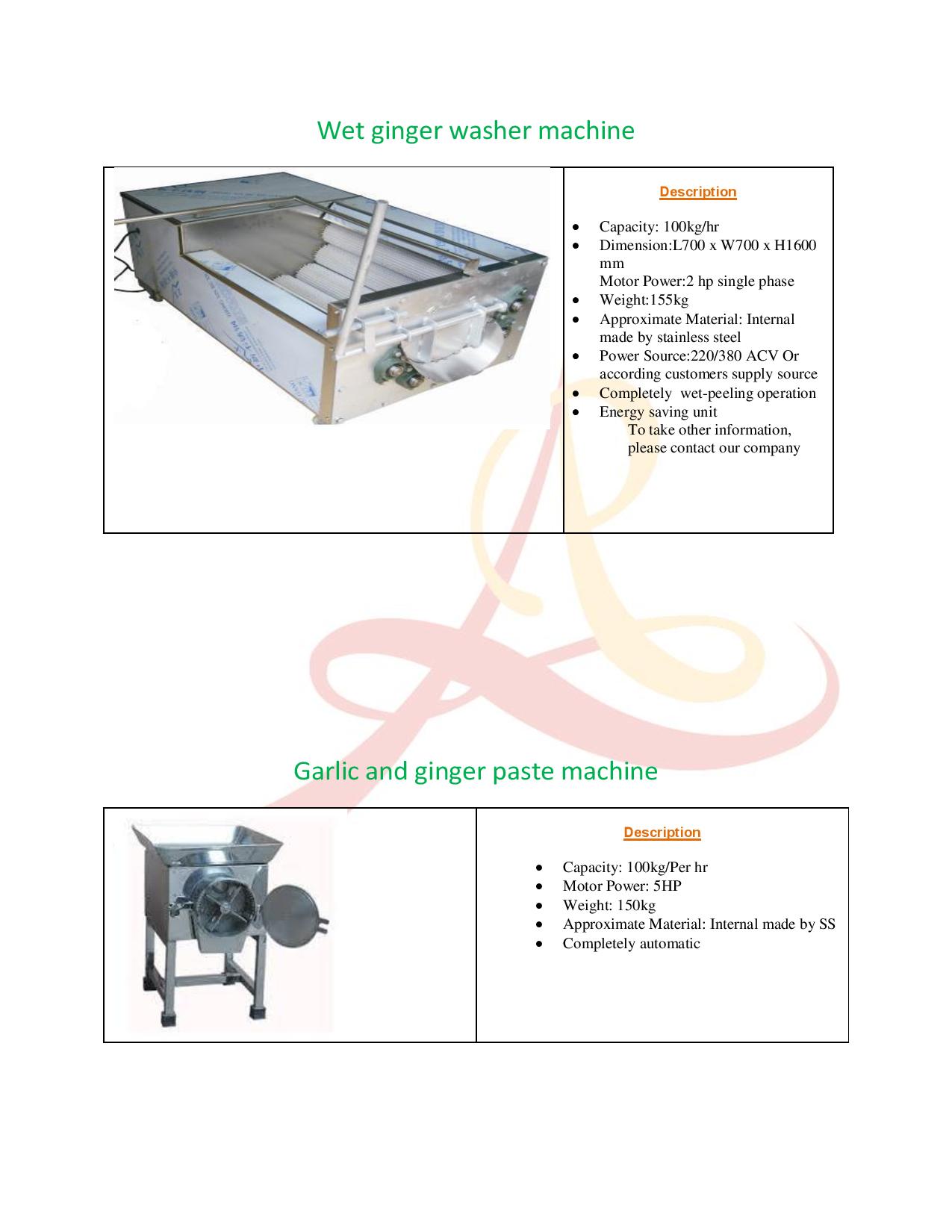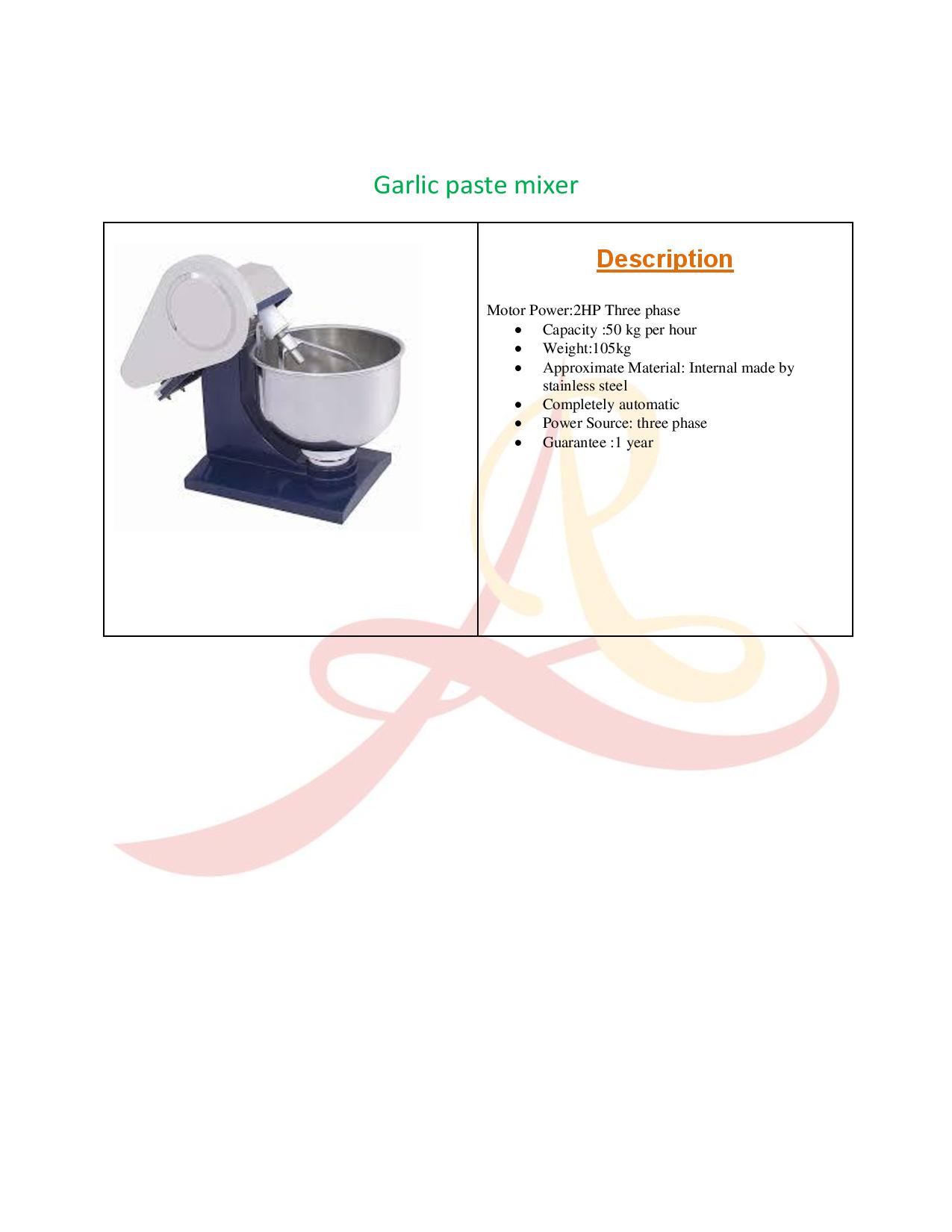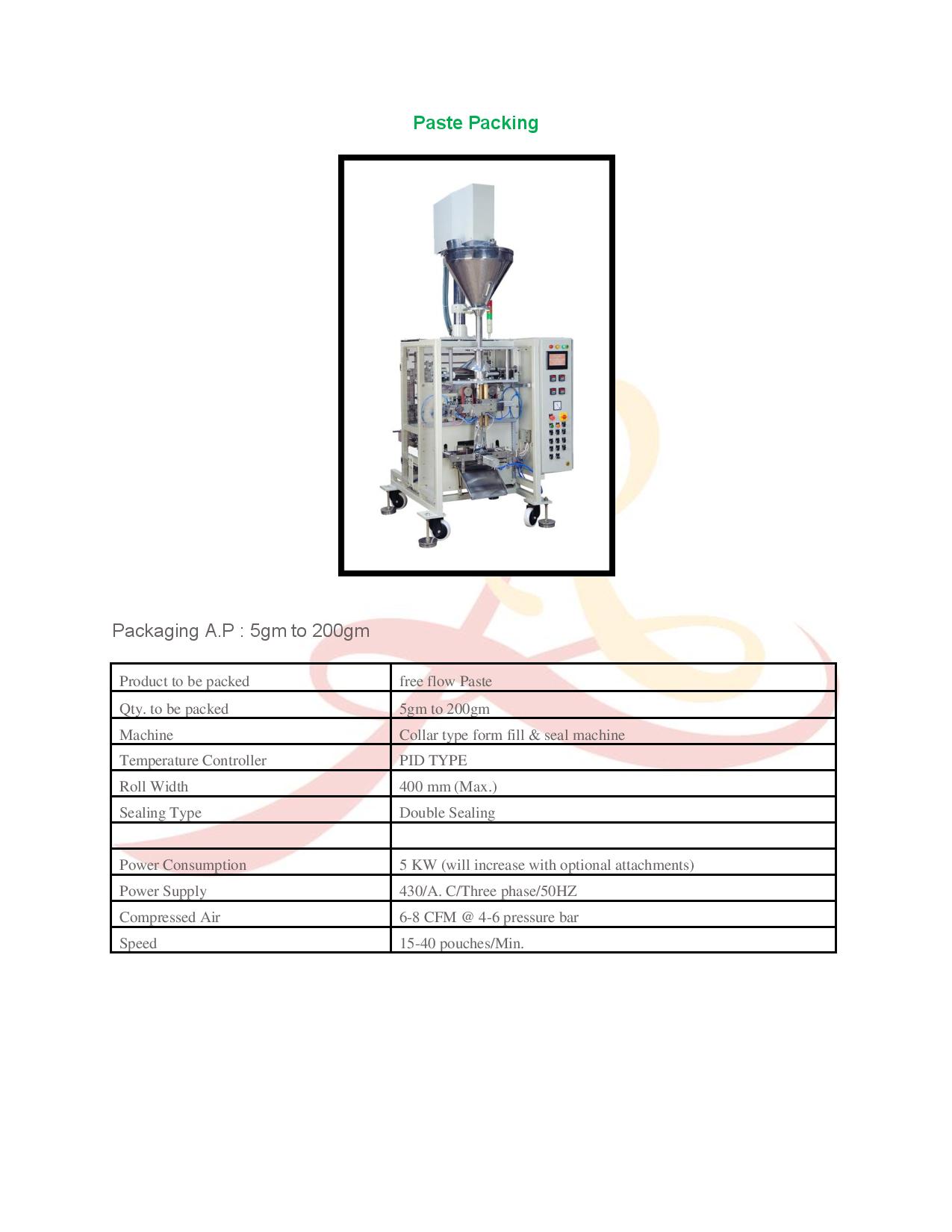 Ginger and Garlic Paste is one of the essential ingredients in Indian cuisines. It is added to almost all of the non-vegetarian preparations and a few vegetarian dishes in Hyderabad cuisine. Ginger and Garlic Paste is mainly used as a condiment in various food preparation and it dominates the cooking paste market.
Gingerand Garlic Paste is one of the primary cooking ingredients. In all the regions of the state, garlic and ginger are grown abundantly and consumed as such. It is consumed,daily, in every house. In present days, customers are more attracted towards instant foods, instant mixes, spices etc
Ginger and Garlic Paste Project Market Potential
The cooking-paste market is estimated at Rs 55-70 crore and is growing at 30 per cent. The reason behind it, the cooking paste segment is now catering to working professionals who are pressed for time and not just housewives. The ginger-garlic paste can be  manufactured and packed in small-scale basis and generally packing comes as 50  and 100 gms packets. The market is widespread especially in rural areas. It is ready to use item which is consumed in all households. In urban areas, the demand for ginger garlic paste is very good and can be supplied on a commercial scale in bulk.
Product Enquiry