Garlic Peeler Machine Manufacturers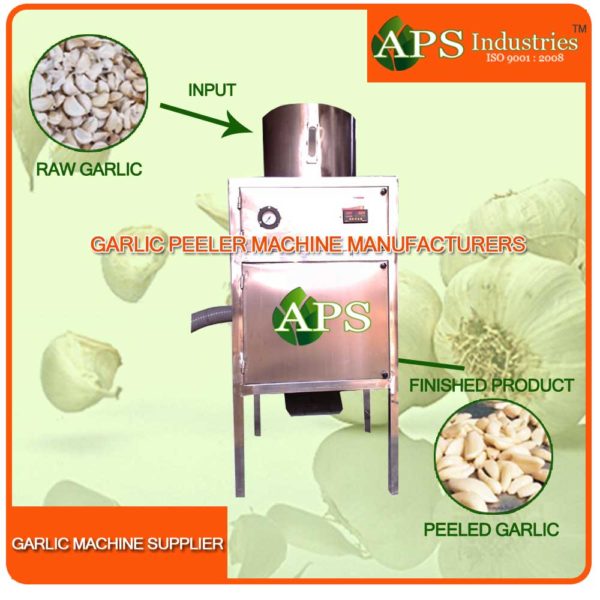 Garlic Peeler Machine Manufacturers
Garlic Peeler Machine Manufacturers Features:
Completely automatic dry garlic cloves operation.
Works on compressed air, Energy saving unit.
Highly compact.
High production efficient.
Easy for maintenance and cleaning Purpose.
Automatic temperature control and in feed device.
Easy to operate.
Can peel different size of garlic, clove and membrane separated.
Suitable for complete production line or Sandolone units.
Cloves are not damaged and will have long preservation for garlic.
Production output according to various parameters like breed, season and nature of garlic.
Capacity:
50 kg per hour
100 kg per hour
150 kg per hour
Note: More capacity is available and the machine is required with an air compressor.
The demo will conducted at the factory
Categories: Automatic Garlic Machine, Commercial Garlic Machines, Dry Garlic Peeler Machine, Garlic Bulb Breaker Machines, garlic peeler machine manufacturers, Garlic Peeler Machines, garlic peeling machine manufacturer
Tags: garlic machine manufacturer, garlic machine manufacturers, garlic machines, Garlic Peeler Machine Manufacturer, Garlic Peeler Machine Manufacturers
Product Description
It is very rare to find the genuine and precise Garlic Peeler Machine Manufacturers in food processing industry.
An APS Industries (ISO 9001-2008 Certified) is one of most reliable Supplier, Manufacturer and Exporter of garlic peeler machine in all countries. We also manufacture automatic temperature control air system in garlic peeler machine in India.
We are well-known to manufacture, supply and export High Range quality garlic peeler Machine. We Offer machine that is especially designed by a team of highly skilled & experienced professionals using Best quality raw material sourced from reliable market vendors.
We also attach hot air system in this machine in order to make easier and faster. Following industries utilize this machines and are in hot demand
Hotel Industry
Restaurant Industry
Catering Industry
Food processing Industry
Above Industry Companies use fresh peeled garlic every day in very less time and hence saves time and money because of machines manufactured by us. Machine design is compact in size so that customer can easily adjust in processing area.
APS industries(ISO 9001-2008 Certified) manufactures various machines of different capacity of garlic peeler machine.
We Provide best Support and Services 24*7*365 all Over India. Accuracy Ratio in our Machine is 95 % Without Damaging Garlic Cloves.
Also the unique feature is 50% reduction in power Consumption.
Product Enquiry