Garlic Peeling Project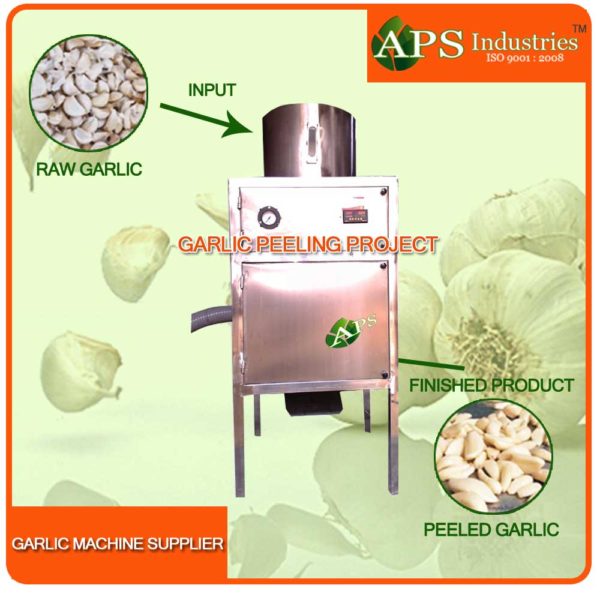 Garlic Peeling Project
Garlic Peeling Machine Features:
Completely automatic garlic peeling operation
Works on compressed air, Energy saving unit
Very compact
High production efficiency
Easy for maintenance and cleaning
Automatic temperature control and in feed device
Easy to operate
Can peel different size of garlic, clove and membrane separated
Suitable for complete production line or single station working
No damages and will have long preservation for garlic
Production output according to varieties from breed, season and nature of garlic
Capacity:
50 kg per hour
100 kg per hour
150 kg per hour
Note: More capacity is available and the machine is required with an air compressor.
The demo will be conducted at the factory
Categories: Automatic Garlic Machine, garlic peeler, garlic peeler machine manufacturers, garlic peeler machine manufacturers, Garlic Peeler Machines, Garlic Peeler Trick, Garlic Peeling Machine, garlic peeling machine manufacturer, Projects
Tags: garlic machine manufacturer, garlic peeler, garlic peeler machine, garlic peeling machine, garlic peeling machine in india, garlic peeling machine supplier, garlic peeling project
Product Description
Garlic Peeling Project is one of our mission to fulfill the requirement of Food Processing Industries for huge process of raw materials. To bring the newly lunch peeling machines to make their work easier and faster.
Garlic Peeling Project capacity ranges from 50 kg per hour, 100 kg per hour, 150 kg per hour and more in capacity. We target small commercial industry of food processing  for 50 kg, medium for 100- 150 kg but large scale will be more than 150 kg per hour. Varies from each capacity will have the proper feature implemented in these machines. That will be the advantage of these products to give the 98 percent accuracy in peeling the garlic cloves.
In general the machine has no comparison from other supplier. We at APS Industries number one manufacturer and exporter of garlic machinery in India. A fully Make in India machines.
Product Enquiry