Garlic Peeler Machine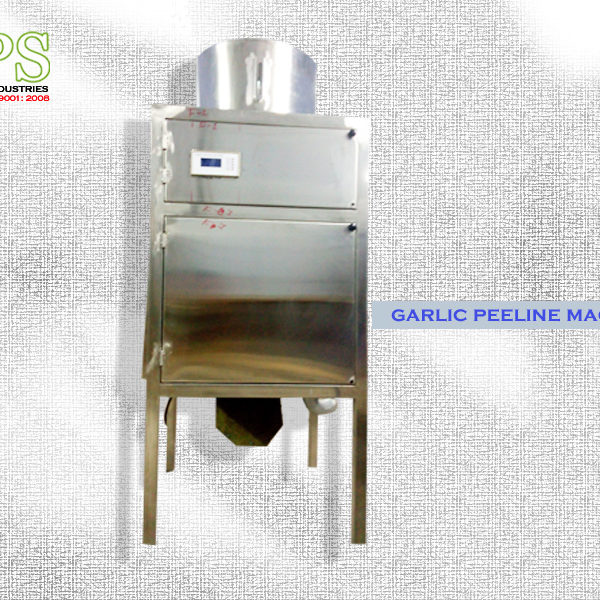 Garlic Peeler Machine
Garlic Peeler Machine Features:
Completely automatic dry-peel operation
Works on compressed air, Energy saving unit
Very compact
High production efficiency
Easy for maintenance and cleaning
Automatic temperature control and in feed device
Easy to operate
Can peel different size of garlic, clove and membrane separated
Suitable for complete production line or single station working
No damages and will have long preservation for garlic
Production output according to varieties from breed, season and nature of garlic
Outside Panels , Hopper & Contact Parts SS 304
Capacity:
50 kg per hour
100 kg per hour
150 kg per hour
Note: More capacity is available and the machine is required with an air compressor.
The demo will be conducted at the factory
Product Description
Our organization APS Industries is among the recognized names and about 10 years in the industry  for manufacturing and supplying Garlic Peeler Machine all over India as well International market.
The offered Garlic Peeler Machine is regarded for its high tensile strength and resistance to corrosion. It is durable, seamless in terms of finish and resistant to corrosion.The material is long lasting that realize ecology and economy for various parts of the machine by providing products that offer longer life, longer time between maintenance periods, and are environment-friendly. That's the main reason why APS Industries in known as number one supplier of garlic peeler machine.
This machine is used for peeling garlic in restaurants and food processing industry or pharmaceuticals company. It is very useful in huge process for huge or bulk quantity of garlic cloves. The finish product usually used in pickling industries,restaurant and other commercial industries.
We have the team of highly experienced technical engineer professionals for developing advanced design machinery. And more than 10 years of experience in manufacturing  Garlic Peeler Machine  and will continue to explore our products. We are most inspired by our customers who become satisfied upon the purchase and bought success in them.
Our engineers keep bringing new innovative ideas, implementing in each of our Garlic Peeler Machine. The process was very easy after breaking the bulb of garlic you can start to peel the cloves in Garlic Peeling Machine with 98 percent accuracy in peeling. No hassle to peel the huge quantity of garlic clove in one go using our constructed Garlic Peeler Machine.
We have shown videos for you to check how the machine works, but we are most glad if you can visit our place for the live demo. Why we are showing live demos to our customers? Because we are genuine suppliers of garlic machinery. We want that the customers are convinced with the real features and we want them to think that the product they bought from us is the best among other competitors. Not because we are proudly shown as one of the know manufacturer, but we want each of our costumers are most satisfied with what they bought from us. Once they felt contented then only we are happy. One of our mission is to bring the ultimate machines  and new ideas.
Don,t hesitate to come and see the actual demo  that will be conducted in our factory.
Product Enquiry