Garlic Peeler Trick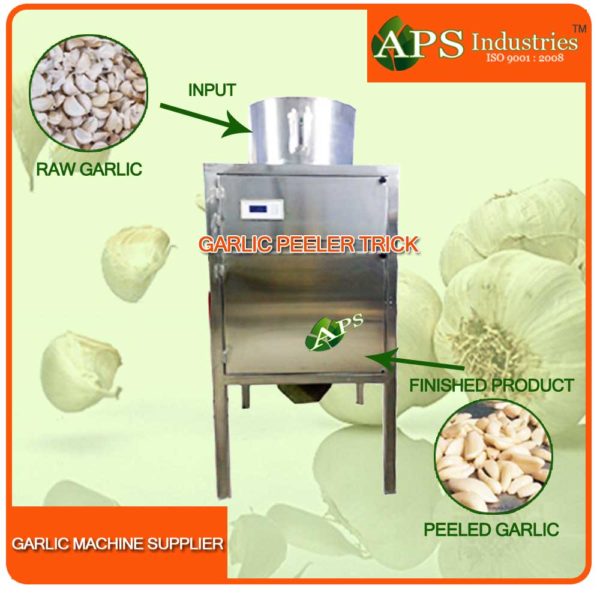 Garlic Peeler Trick
Garlic Peeler Trick Features:
Completely preprogrammed operation.
Need an air sompressor
Neatly fitted into a small space.
High production efficient.
Easy for maintenance and cleaning purpose.
Automatic temperature control and in feed device.
Easy to operate.
Can peel different size of garlic, clove and membrane separated.
Suitable for complete production line or Sandolone units.
Cloves are not damaged and will have long preservation for garlic.
Production output according to various parameters like breed, season and nature of garlic.
Capacity:
50 kg per hour
100 kg per hour
150 kg per hour
Note: More capacity is available and the machine is required with an air compressor.
The demo will be conducted at the factory
Categories: Automatic Garlic Machine, Commercial Garlic Machines, Garlic Machines, garlic peeler, garlic peeler machine manufacturers, Garlic Peeler Trick, Garlic Peeling Machines
Tags: dry garlic peeling machine, garlic peeler, Garlic Peeler Machine Manufacturer, Garlic Peeler Machine Manufacturers, garlic peeler machine supplier, garlic peeler supplier, garlic peeler trick, garlic peeling machine, garlic peeling machine manufacturer, garlic skin remover machine, wet garlic peeler machine
Product Description
APS Industries most reputed Garlic Peeler Trick supplier in India. We bought a machine to peel garlic automatically? We ate APS Industries construct an automatic garlic peeling machine. The process is very easy once you started the machine it will work by itself to peel the garlic cloves in huge quantity. The human control only is to press the start button then off after the process then the peeled garlic is ready for the next process or use.In this procedure we did in most of our machine to give you a hassle free operation.
All varieties of garlic suitable in the process of peeling  and the finish product maintain its natural texture. We started this venture ten years back and been successful in this venture till now. The full peeling process is very accurate with clean output 98 percent of garlic successfully peeled.
Product Enquiry