Garlic Peeling Machine In India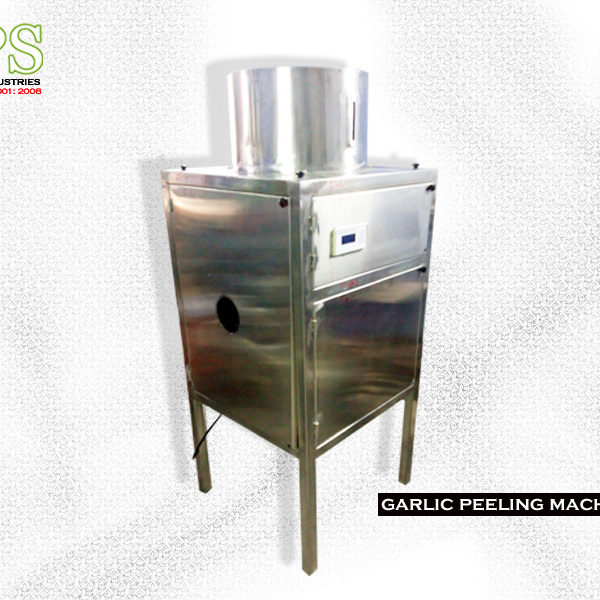 Garlic Peeling Machine In India
Garlic Peeler Machine Manufacturers Features:
Completely automatic dry garlic cloves operation.
The machine consume less power.
Highly compact.
High Capacity RGB Cameras.
Easy for maintenance and cleaning purpose.
Automatic temperature control and in feed device.
Easy to operate.
Can peel different size of garlic, clove and membrane separated.
Works On High Efficiency,High Productivity and 98% accuracy.
Cloves are not damaged and will have long preservation for garlic.
Production output according to various parameters like breed, season and nature of garlic.
Capacity:
50 kg per hour
100 kg per hour
150 kg per hour
Dimension:
L700xW700xH1600mm
Note: More capacity is available and the machine is required with an air compressor.
The demo will be conducted at the factory
Categories: Automatic Garlic Machine, Commercial Garlic Machines, Garlic Bulb Breaker Machines, Garlic Machines, Garlic Paste Machines, garlic peeler, garlic peeler machine manufacturers, Garlic Peeler Machines, garlic peeling machine supplier, Garlic Peeling Machines
Tags: garlic peeler, garlic peeler machine, garlic peeler machine supplier, garlic peeling machine, garlic peeling machine in india, garlic peeling machine manufacturer, garlic peeling machine supplier
Product Description
With the support of our adept and seasoned expert technical engineers, with an ISO 9001-2008 Certified APS Industries are engaged in Manufacturing and Supplying a wide range of Garlic Peeling Machine In India. Our provided garlic peeling machinery is widely utilized for bulk quantity of garlic distributed in pickle industry,garlic powder and garlic paste processing company.
Because of the salient features, sturdy constructed and perfect finish, this Garlic Peeling Machine In India is in demand. As per the requirement the machines are available for purchase in specific and customized grade with less or 50 percent power consumption. Not only that we have more option for capacity starting from 50 kg capacity per hour to hundreds and more are available.
If  your buying garlic machines from us you have the privilege to see the actual demo in our establishment. You can test it by your serf and we prove the 98 percent of peeling is done and no waste for the process and amount of garlic.
These machines are highly offer products and it is regularly checked with our highly qualified control operators before it will deliver to customers. Our well-coordinated supply chain system effectively manages to deliver the products as per the committed time schedule.
Product Enquiry