Garlic Peeling Machine Price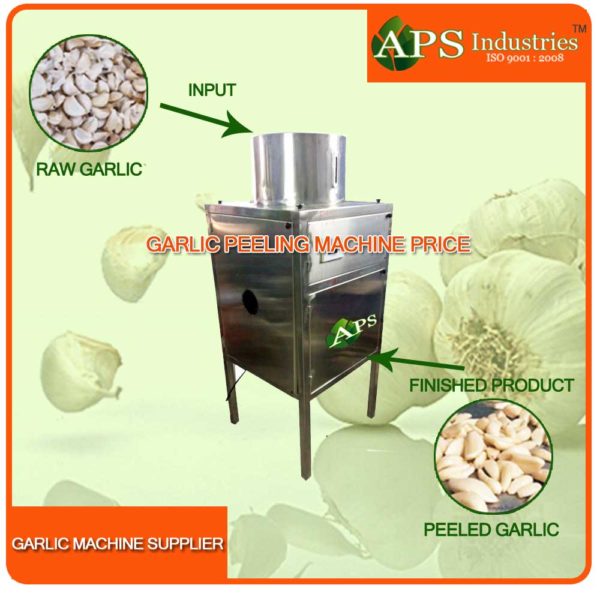 Garlic Peeling Machine Price
Garlic Peeling Machine Price Features:
Completely automatic garlic peeling operation
Works on compressed air, Energy saving unit
Very compact
High production efficiency
Easy for maintenance and cleaning
Automatic temperature control and in feed device
Easy to operate
Can peel different size of garlic, clove and membrane separated
Suitable for complete production line or single station working
No damages and will have long preservation for garlic
Production output according to varieties from breed, season and nature of garlic
Capacity:
50 kg per hour
100 kg per hour
150 kg per hour
Note: More capacity is available and the machine is required with an air compressor.
The demo will be conducted at the factory
Categories: Garlic Bulb Breaker Machines, Garlic Machines, Garlic Paste Machines, garlic peeler machine manufacturers, Garlic Peeler Machine Price, garlic peeling machine price, garlic peeling machine supplier, Garlic Peeling Machines
Tags: garlic machine manufacturer, garlic machine manufacturers, garlic peeler, garlic peeling machine, garlic peeling machine price, garlic skin remover machine
Product Description
Enriched by 10 years of industrial experience, APS Industries (ISO9001-2008 certified) are involved in manufacturing and supplying numerous products. We have more than 1200 develop products in that period of time.
Garlic Peeling Machine Price is precisely designed and developed from finest quality components from our dedicated market vendors who supply world class standards of raw materials. The machines due to its robustness, durable performance and consistency,extensively recommended by various clients. And it is in demand in the market because of its excellent features.
We are proud for our Garlic Machines as admired and inspired by everyone for its speedy performance. With 98% accurate functionality and efficiency. We include fully computerized control panel and automated temperature control panel there are 50% less power consumption.
An easy to operate for peeling big amount of garlic in one process. From creating machine with excellent features. The machine can let you make or peeled more garlic as it is pre-programmed designs, make your job easier to finished.
To make you familiar with the machine upon the purchase we will show the demo in our factory. The function of the machines, its settings and other parts. An automatic operated machine so its easy for you to remember the steps. Even the higher models and more in capacity can be pretty easy to operate and you don't have the headache in learning how the machines works.
Product Enquiry