Indian Garlic Peeler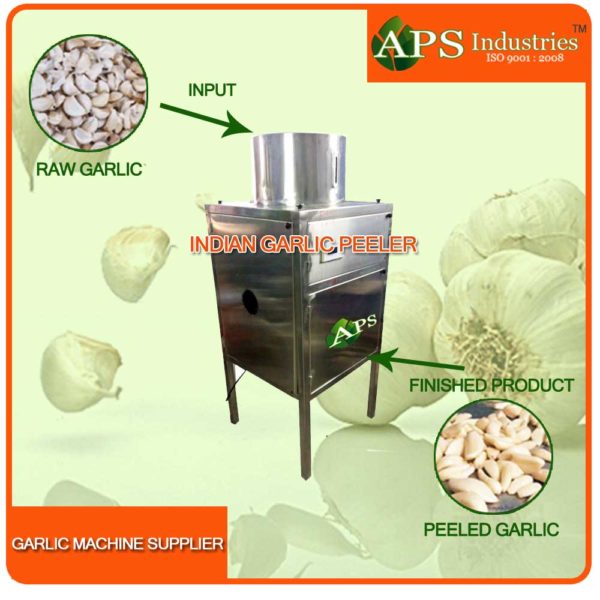 Indian Garlic Peeler
Indian Garlic Peeler Features:
Approximate Material: Internal made by stainless steel
Power Source: 220/380 ACV Or according customers supply source
Require Air Pressure: 8~9 kg/CFM 45<\li>
Computerize control panel<\li>
Completely automatic dry-peeling operation
Energy saving unit
Automatic temperature control and in feed device
No damage to garlic clove
Guarantee: 1year
Capacity:
50 kg per hour
100 kg per hour
150 kg per hour
Note: More capacity is available and the machine is required with an air compressor.
The demo will be conducted at the factory
Categories: Automatic Garlic Machine, Commercial Garlic Machines, Garlic Bulb Breaker Machines, Garlic Machines, Garlic Paste Machines, garlic peeler, garlic peeler machine manufacturers, Garlic Peeler Machines, Garlic Peeler Trick, garlic peeling machine manufacturer, garlic peeling machine supplier, Garlic Peeling Machines, Small Garlic Peeler Machines
Tags: dry garlic peeling machine, garlic peeler, Garlic Peeler Machine Manufacturer, garlic peeling machine, garlic peeling machine manufacturer, garlic peeling machine supplier, garlic skin remover machine, indian garlic peeler
Product Description
APS Industries has designed and developed Indian Garlic Peeler,which peels garlic while maintaining the original property. It is a fully automated machine, made from food grade quality material from reliable market vendors.
It is manufacture for peeling garlic in bulk quantity, energy efficient and saves labor. It economizes operating cost about 2 rupees per kg and removes capacity constraints caused by the shortage of human labor in peak seasons for pickle industry,restaurants and any other food processing company.
The peeling effectiveness is very high, about 98%  of garlic cloves peeled properly. No damage, maintain it shiny texture and aroma to peeled garlic cloves. This machine is maintenance free and requires only labor during operation to feed or fill the garlic machines. On this machine all types of garlic is suitable and get the higher accuracy peeling process.
Garlic is a part of Indian culture in culinary  and medicine.The garlic has to be broken into cloves and then the skin has to be peeled before consumption. This work is highly labor intensive and consumes a lot of time. This has put a major constraint for the industries to scale up their capacity to process huge quantity of garlic peeling.
With the old methods or none efficient garlic machines will increase labor cost and that will be additional expense for any industry. To reduce labor cost we made an automatic or pre-programmed garlic peeling machines. That is one of the best feature for our manufactured machines. And still will continue to explore more ideas in constructing machine to deploy or lunch the machines helping Food Processing Industry in quicker, fast and easy process of garlic peeling.
A proud team introduces to let the world know how much knowledge in creating machine using high quality material in the outer panel and built in advance features. Totally an India made machine!
Product Enquiry