Lahsun Peeling Machine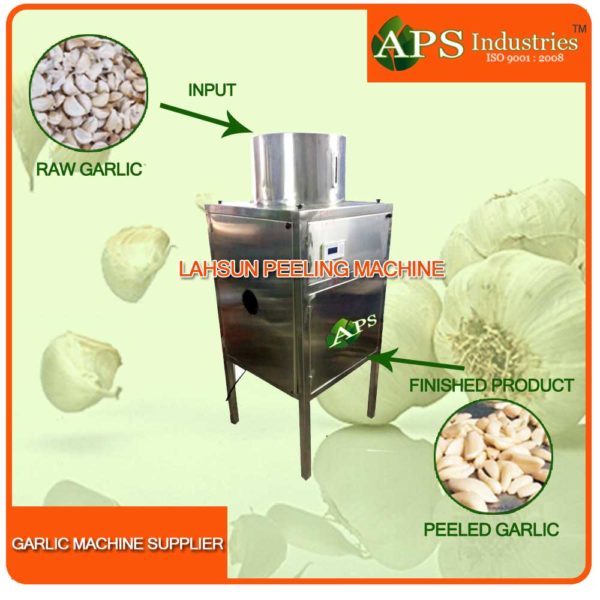 Lahsun Peeling Machine
Lahsun Peeling Machine Features:
Simple and easy to use
no damage to cloves
Less power consumption
Low Maintenance
Capacity:
40/80/120 kg/h
Note: More capacity is available and the machine is required with an air compressor.
The demo will be  conducted at the factory
Categories: Garlic Machines, garlic peeler, Garlic Peeler Machines, Garlic Peeling Machines, garlic processing machinery, Lahsun Peeling Machine, Lasun Peeler
Tags: garlic peeler, garlic peeling machine, garlic peeling machine manufacturer, garlic peeling machine supplier, Lahsun Peeling Machine, lasun peeler
Product Description
Owing to our industrial expertise, APS (9001-2008 certified) Industries have been able to come up with highly efficient Lahsun Peeling Machine. We manufactured the type of Lahsun Peeler with an eagerness and innovative ideas which mostly require in food processing industry in processing raw materials.
About the performance we can assure the efficient and excellent output of peeling cloves of garlic without breaking the cloves while the skin is remove while processing. It helps Food Processing Industries for quick and easy process of raw materials including peeling,pasting and breaking. That most used the finish product in pickling and huge quantity of cooking.
Authentic and high quality raw materials from reliable resource of vendors used in the creation of this innovative Lahsun Peeling Machine.
We give Customer Direct Relationship For Services.
Product Enquiry